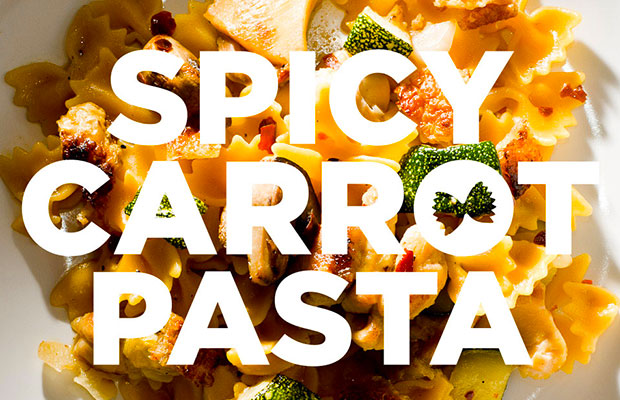 Maybe I don't know where to look for spicy food in Europe, or maybe my idea of spicy differs from the palate here, but I've noticed that there's a decided lack of spicy heat on this side of the pond. I haven't turned into one of those spice monsters that travel around with ghost chilli pepper flakes in their pocket, but I do appreciate that tingly burn you get when digging in to a perfectly spicy dish.
After nearly 3 months of travelling across Europe and many, many meals out, Mike and I were definitely feeling the spice craving so one night I threw together a simple spicy chicken carrot pasta. It was fast, easy and totally hit the spot. It was basically a dressed up aglio e olio, one of my go-to dishes when I'm looking for something quick and satisfying.
Aglio e olio is super simple: just pasta, garlic, and red chilli flakes. Generally, crushed red chilli flakes aren't very spicy, but when you throw them in by the handful like I do, they can pack a much needed spicy punch.
For an extra bit of indulgence, I made some crispy chicken cracklings. The little bits of crispiness were the perfect bit of crunch for this dressed up aglio e olio.
I found this awesome mini carrot farfalle at a Monoprix in Bordeaux and I could not resist it. Is anyone else obsessed with visiting grocery stores while travelling?
Source