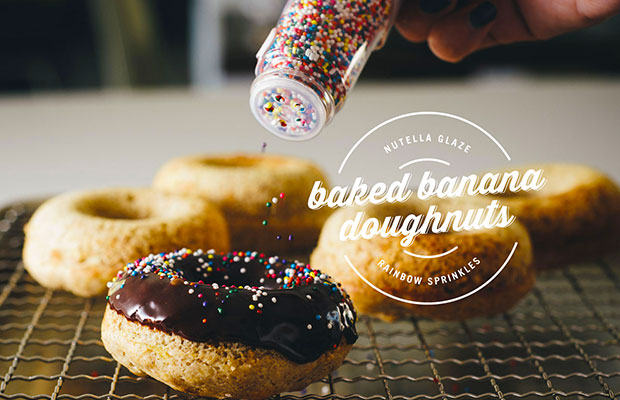 I'm on a doughnut binge! First I came down with a midnight craving for doughnuts that resulted in some deep-fry action, then I saw a doughnut pan on sale at Crate and Barrel. I just had to buy it. Anything that makes doughnut making a little simpler is a-ok in my books.
I've been wanting to buy a doughnut pan for a while but I couldn't make myself do it. I really dislike buying specialty pans — they always end up languishing in the dark depths of my cupboards. I didn't think I'd use the pan all that much but after making these banana doughnuts I'm a total convert.
I love my doughnut pan! Now that I've taken the baked doughnut plunge I can totally picture myself making loads of other baked doughnuts. I was planning on starting with a plain doughnut, but some brown freckled bananas called to me.
I adapted one of my favourite banana bread recipes and I'm happy to report that my doughnuts came out light, fluffy and addictive. They didn't have the crunch you get from deep frying but I actually preferred the texture of these soft, pillowy ohs of goodness.
The Nutella glaze took these doughnuts over the top. Nutella and bananas are a classic pairing so the glazed doughnuts did not disappoint, especially with the crunch of the sprinkles. If you're a fan of naked doughnuts, these doughnuts are just the slightest bit sweet.
Source